go back...
What is a Biosphere Reserve ?
Biosphere Reserves are areas of terrestrial and coastal ecosystems which are internationally recognized within the framework of UNESCO's Man and the Biosphere (MAB) Programme. Collectively, they constitute a World Network. They are nominated by national governments and must meet a minimal set of criteria and adhere to a minimal set of conditions before being admitted into the World Network. Each Biosphere Reserve is intended to fulfil three basic functions, which are complementary and mutually reinforcing:
a conservation function - to contribute to the conservation of landscapes, ecosystems, species and genetic variation;
a development function - to foster economic and human development which is socio-culturally and ecologically sustainable;
a logistic function - to provide support for research, monitoring, education and information exchange related to local, national and global issues of conservation and development.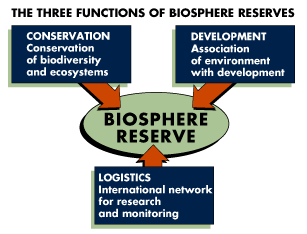 Individual Biosphere Reserves remain under the sovereign jurisdiction of the countries in which they are situated. Some countries have enacted legislation specifically to establish Biosphere Reserves. However, in many cases, advantage is taken of the existence of areas already protected under national law to establish Biosphere Reserves. Biosphere Reserves consist of a core area, a buffer zone and a transition area) and only the core area requires legal protection. A number of Biosphere Reserves simultaneously encompass areas protected under other systems (such as national parks or nature reserves) and other internationally recognized sites (such as World Heritage or Ramsar wetland sites).

Ownership arrangements may vary too. The core areas of Biosphere Reserves are mostly public land, but may also be privately owned or belong to non-governmental organizations. In many cases, the buffer zone is in community or private ownership, and this is generally the case for the transition area.


Establishing a Biosphere Reserve obviously poses an enormous challenge, namely to set up an appropriate mechanism, for instance a Committee, to plan and co-ordinate all the activities that will take place there. This human dimension of Biosphere Reserves makes them special, since the management of a Biosphere Reserve essentially becomes a "pact" between the local community and society as a whole. Management needs to be open, evolving and adaptive. Such an approach requires perseverance, patience and imagination. But it will allow the local community to be better placed to respond to external political, economic and social pressures, which would affect the ecological and cultural values of the area.