Bassano B., Durio P., Gallo Orsi U., Macchi E eds., 1992. Proceedings of the 1st Int. Symp. on Alpine Marmot and genera Marmota. Torino.
Edition électronique, Ramousse R., International Marmot Network, Lyon 2002
---
SURVEY ON THE ALPINE MARMOT (Marmota marmota L.) IN THE NATURAL PARK OF PANEVEGGIO-PALE Dl SAN MARTINO (EASTERN ALPS)
Ventura Luini P.
Italian Department for State Park; and Forest Service of the Autonomous Province of Trento
---
Abstract - The research for the duration of 3 years 1987/1989 has been divided into three phases:
1) Analysis of the distribution of the Alpine Marmot within the Park territory;
2) Study of few ethological parameters;
3) Study of acoustic communication.
INTRODUCTION
The Italian Department for State Parks and Forest decided to undertake research on the Alpine Marmot due to a previous lack of scientific data of that species in the Paneveggio-Pale di San Martino.
The purpose of this survey is to provide general information on the behaviour of the Marmot in order to gain an understanding of how to manage the park, with respect to this species. The research was divided into three parts: first, a demographic analysis of Marmots in the park, second, a behavioral study, and third, a study of sound communication of the Marmot.
DEMOGRAPHICS OF ALPINE MARMOTS IN THE PANEVEGGIO-PALE DI SAN MARTINO PARK
First, the park was divided into regions; each region being assigned to one park ranger. Regions were then surveyed to determine Marmot population levels in that region, and to determine which factors were significant influences on the choice of habitat of the Marmot. In this survey, 66 Marmot colonies were identified in heterogeneous settings with regard to vegetational and geomorphological factors. Marmot populations are distributed in throughout the park, with a variety of factors seeming to influence location.
All 66 colonies were between 1900 and 2400 meters above sea level, with concentrations of populations at 2100 meters (24%,) and 2200 meters (21%); 27 % of the colonies had a southern exposure, 80 % of these rodents chose to settle in areas with an average slope.
The results of our research indicated that Marmots colonize areas with a substratum of porphyry rock (31 %), porphyry-micashists-quarzt rock (25 %), and limestone (44%) evenly (differences in population correspond approximately to the geological variations in the park). During this phase of the study, five sample colonies were selected in order to analyze the organization of the burrows through a topographical survey.
An interesting characteristic of Marmot burrows was the lack of special summer or winter burrows; Marmots seem to use the same burrows to hibernate as well as to birth and suckle their young. Dens have only one entrance over a large terrace. The entrance is generally sheltered by rocks, which help to melt snow in the spring by absorbing and reflecting solar radiation. They are also used by Marmots as lookout posts. On average, the Marmot burrows which we studied had entrances with the following dimensions: diameter 35 cm, width 30 cm and height 19 cm.
The shape of the entrance varies according to the substratum of rock in the area. Marmots secondary or escape dens have on average the following dimension: diameter 30 cm, width 24 cm and height 18 cm and can be either round or oval in shape. The data which we collected showed that Marmots do not have a preferred orientation for their escape dens; this is probably due to the particular functions that these dens play in Marmot colonies. Another interesting feature of the Marmot colonies that we surveyed was the lack of latrines.
Each colony surveyed was mapped in order to estimate its geographical characteristics, and to observe its evolution over the years.
At the end of this phase of the study, the subjects were captured by means of nooses placed in the entrance of the burrow.
The subjects were injected with a combination of chlorohydrated of Ketamin and Xylazin (Lenti, 1988) through a deep intra-muscular injection (unsuccessfully) and then marked with colored ear plates, and branded with a freon (2 minutes of exposure to freon for adults, 40 seconds for young marmots).
OBSERVATION OF MARMOT BEHAVIOUR
In June 1988, a sample colony was chosen to carry out ethological research. It was occupied by one adult male (Flynky), one adult female (Jessica) and three immature (M1-M2-M3) Marmots. During the following month, the male was predated, and the female gave birth to four young.
In the period between June and September 198a, a study was carried out regarding the Marmots circaclian behavioral patterns and each animal was censused every 1 minute (table 1). With regard to resting time both on the burrow terrace, and in other locations (Lenti, 1983), the position that the Marmots assumed (and the amount of time spent in each position) is reported in the same table.
Greeting: During the period between June and September, 181 sequences of greetings were observed (Fig. 1).
Grooming: During that same period, 55 sequences of grooming were observed, 22 preceded by a greeting. In 50 of the cases, the body part groomed was identified. In the Fig. 2, the first letter indicates the individual which initiated the grooming behaviour.
Play: Only typical play sequences were recorded (posture "X"). Between June and September, 70 sequences were observed, 52 of which involved young (Fig. 3).
Carrying Grass: All members of the colony took part in this behaviour, and it is interesting to note that 34 out of 36 cases observed, took place in September. In these cases, the grass was used line the burrow during hibernation (Fig. 4).
Sound communication
The study of sound communication was carried out by means of registrations of the "screams" recorded on the fields with a cassette recorder and Marantz tapes type CP 230, and the help of a condenser microphone AKG type C 451 and with a directional capsule CK 9. Afterwards the recorded screams were selected and copied on bobbins by means of a bobbin recorder type U HER 4000 Monitor to register them in the archives and analyse them in the laboratories. The analysis took place at the Interclisciplinary Bio-Acoustic Centre of the lnstitute for Entomology at the University of Pavia by means of the signal analyser in real time KAY SONOGRAPH Model DSP 5500 thanks to the cooperation of Dr. Gianni Pavan. The screams can be distinguished in: a single scream characterised by the are distinguished as follows ssion a single note; screams in sequence made up by a rapid sequence of notes, sometimes interrupted by longer pauses and series of screams composed by a variable number of consequent screams.
The analysis of these parameters carried out on 417 notes gave the following result: Maximum frequency: the results concerning the pause of F max included between 2500-3700 Hz with a principal peak between 2700-3000 Hz
Pause between two consequent notes measured in 2Khz intervals: the values are included between 0.1-1.8 seconds with a series of final longer pauses which is not of particular importance. The most significant pause is included between 0.3-0.9 seconds.
Length of the note: the interval of frequency is included between 0.04-0.2 seconds with a principal peak between 0.06-0.12 seconds.
MANY THANKS TO
I wish to thank the Italian Department for State Parks and Forests of the independent province of Trento and particularly Dr. M. Zorzi, Dr. D. Zorzi, Dr. G. Nicolini and Dr. V. Cattani. A special thank goes to the forest personnel of the Park of Paneveggio-Pale by San Martino, to the gamekeepers Herlacher, Pizzoli, Zugliani, to Dr. G. Volcan, Dr. G. Pavan and to Dr. L. Cagnolaro vice-director of the Civical Museum of Natural History in Milan.
---
INDAGINE CONOSCITIVA SULLA MARMOTTA ALPINA (Marmota marmota L.) NEL PARCO NATURALE Dl PANEVEGGIO-PALE DI SAN MARTINO (ALPI ORIENTALI)
Ventura Luini P.
Italian Department for State Park; and Forest Service of the Autonomous Province of Trento
---
Premessa
Il motivo che ha spinto il Servizio Parchi e Foreste Demaniali della Provincia Autonoma di Trento ad intraprendere questa ricerca é stata la carenza di informazioni scientifiche su questo roditore, concernenti la realtà del Parco di Paneveggio-Pale di San Martino sito all'estremità orientale del Trentino.Per cui si é deciso di iniziare un'indagine conoscitiva che prendesse in esame vari aspetti della vita della marmotta per ottenere una serie di nozioni utilizzabili ai fini della gestione faunistica. A questo scopo la ricerca, della durata di tre anni (1987-1988-l989), é stata suddivisa in tre fasi: la prima, analisi della distribuzione della Marmotta alpina sul territorio del Parco, la seconda prevedeva alcune osservazioni comportamentali e la terza uno studio sulla comunicazione acustica.
Analisi della distribuzione della Marmotta alpina sul territorio del Parco
Per svolgere la prima parte della ricerca é stato necessario suddividere il territorio del Parco in base alle competenze territoriali dei guardia-caccia. Il Parco, cosi suddiviso, é stato ispezionato al fine di stabilire la distribuzione della marmotta e di valutarne le caratteristiche ecologiche che ne condizionano l'insediamento. Su tutto il territorio sono state censire 66 colonie insediate negli ambienti più diversi per caratteristiche geomorfologiche e vegetazionali.La marmotta appare distribuita abbastanza uniformemente su tutto il territorio. Tutte le 66 colonie sono comprese tra 1900 e 2400 metri, con due picchi a 2100 metri (24 %) e 2200 metri (21 %). Il 27 % delle colonie sono esposte a sud; per quanto riguarda l'inclinazione del pendio l'80 % delle colonie si trovano su un terreno con inclinazione media. In riferimento alla natura del substrato le marmotte colonizzano sia su porfido (31 %), porfido-micascisti-quarziti (25 %) sia su calcare (44 %) e questa suddivisione rappresenta grosso modo la natura geologica del Parco. Durante questa fase sono state scelte 5 colonie-campione all'interno delle quali é stato svolto uno studio sulla struttura ed organizzazione del sistema di tana, mediante rilevamento topografico.
Un aspetto caratteristico, emerso nel corso del rilevamento topografico, é la mancanza di distinte tane invernali ed estive: nel Parco esiste un sola tipo di tana, che viene utilizzata sia per il letargo, sia per partorire ed allattare i piccoli per più anni consecutivi dallo stesso gruppo di marmotte. Queste tane non possiedono aperture secondarie, ma un'unica entrata principale posta al di sopra di un ampio terrazzino, sono quasi sempre protette da massi che favoriscono la fusione della neve in primavera assorbendo e reirradiando i raggi solari e sono degli ottimi punti di osservazione.
L'apertura della tana principale ha un diametro di circa 35 cm, altezza 19 cm e larghezza 30 cm, la forma dell'apertura varia in rapporto al substrato con una forte selezione per quanto riguarda l'esposizione. Le tane secondarie o di fuga, hanno un diametro di circa 30 cm, altezza 18 cm e larghezza 24 cm, con una sezione da ovale a rotonda.
In questo caso dall'elaborazione dei dati non é emersa una spiccata selettività rispetto all'esposizione, questo fatto può essere molto probabilmente messo in rapporto alla diversa funzione che queste tane svolgono nella colonia. Un'altra caratteristica delle colonie censite nel Parco é la mancanza di latrine.
Per ogni colonia è stata redatta una mappa con lo scopo di valutarne la distribuzione spaziale e per vederne l'evoluzione nel corso degli anni. Prima di passare alla seconda fase della ricerca si é svolta una campagna di cattura e marcatura, utilizzando dei lacci opportunamente predisposti all'entrata della tana. Gli animali sono stati anestetizzati utilizzando un'associazione di cloroidrato di Ketamina e di Xylazina (Lenti, 1988), somministrate per via intramuscolare profonda, purtroppo l'uso dell'anestetico é stato un insuccesso. Successivamente sono stati marcati utilizzando delle targhette auricolari colorate ed un marchio permanente sulla coscia utilizzando il freon con una esposizione di 2 minuti per l'adulto e di 40 secondi per il piccolo.
Osservazioni comportamentali
La colonia scelta per compiere le osservazioni etologiche, nel giugno dell'88 era occupata da un gruppo familiare composto da un maschio adulto (Flynky), da una femmina adulta (Jessica) e da tre immaturi (M1, M2, M3), nel mese successivo si é verificata la predazione del maschio adulto e la femmina ha partorito 4 piccoli.
Nel periodo giugno-settembre 1988 é stato effettuato uno studio sull'utilizzo del tempo nell'arco della giornata per ogni singolo animale ad intervalli di 1 minuto (Tabella 1).
Per quanto riguarda la sesta sul terrazzino e lo stazionamento (Lenti, 1981), sono riportate le posture assunte dalle marmotte e la percentuale di tempo trascorsa in tali pose.
Riconoscimento: nel periodo giugno-settembre si sono osservate 181 sequenze di riconoscimento (Schema 1).
Grooming: nello stesso periodo si sono verificate 55 sequenze di grooming, 22 delle quali precedute dal riconoscimento; in 50 casi é stato possibile individuare le zone del corpo nel quale si é verificato il grooming. Nella sigla del grafico la prima lettere indica la marmotta che ha iniziato l'interazione (Schema 2).
Gioco: sono state considerate. Solo le sequenze classiche con assunzione della postura ad X. Durante giugno-settembre si sono osservate 70 sequenze, 52 delle quali coinvolgevano i piccoli (Schema 3).
Trasporto erba: a questa attività partecipano tutti i membri della colonia ed e interessante notare che su 36 trasporti d'erba avvenuti nel mese di settembre, 34 hanno interessato la nana che viene abitualmente utilizzata per trascorrere il letargo (Schema 4).
Comunicazione acustica
Lo studio della comunicazione acustica é avvenuta mediante registrazioni del grido eseguite in campo con un registratore a cassette Maranz CP 230 con l'ausilio di un microfono a condensatore AKG tipo C 451 e con capsula direzionale CK 9.Successivamente le grida registrate venivano selezionate e copiate su bobine utilizzando un registratore a bobine UHER 4000 Monitor per l'archiviazione e l'analisi in laboratorio. Avvenuta presso il Centro Interdisciplinare dell'Istituto di Entomologia dell'Università di Pavia con l'impiego dell'analizzatore di segnali in tempo reale KAY SONOGRAPH 5500 grazie alla collaborazione del Dott. Gianni Pavan.
Il grido viene distinto in: grido singolo, caratterizzato dall'emissione di un'unica nota; grido in sequenza, formato da una sequenza di note serrate, talvolta intercalate da pause di maggior durata e serie di gridi, composti da un numero variabile di grida in sequenza. Dall'analisi di questi parametri effettuata su 417 note risulta: Frequenza massima, i valori relativi all'intervallo di F max sono compresi tra 2500-3700 Hz con un picco principale tra 2700-3000 Hz.
Intervallo tra due note consecutive misurato a 2 Khz, i valori sono compresi tra 0.1-1.8 secondi con una coda finale di pause più lunghe poco significativa, l'intervalle più rappresentative é compreso tra 0.3-0.9 secondi.
Durata della nota, l'intervalle di frequenza é compreso tra 0.04-0.2 secondi con un picco principale tra 0.06-0,12 secondi.
Desidero ringraziare il Servizio Parchi e Foreste Demaniali della Provincia Autonoma di Trento ed in modo particolare il Dott. M Zorzi, il Dott. D.Zorzi, il Dott. Nicolini e il Dott. V. Cattani.
Un ringraziamento particolare va a tutto il personale forestale del Parco di Paneveggio-Pale di San Martino, ai guardiacaccia Herlacher, Pizzoli, Zugliani, al Dott. G. Volcan, al Dott G. Pavan, ed al Dott. L. Cagnolaro vicedirettore del Museo Civico di Storia Naturale di Milano.
---
 

JUNE

JULY

AUGUST

SEPTEMBER

 

J

M1

M2

M3

J

M1

M2

M3

J

M1

M2

M3

J

M1

M2

M3

RESTING ON THE BURROW TERRACE

4

6

8

9

3

3

3

2

4

3

2

1

4

3

2

3

SEATED

53

82

87

92

45

69

74

91

94

85

78

91

98

88

85

63

UP-ALERT

30

14

6

7

49

25

23

9

5

13

21

9

2

10

13

34

LYING

9

1

 
 

3

 

1

 

1

 
 
 
 
 
 
 

OTHERS8

8

3

7

1

3

6

2

 
 

2

1

 

 

2

2

3

FEEDING

19

36

32

32

16

12

9

6

5

21

18

10

25

34

21

29

RESTING IN OTHER LOCATIONS

14

25

20

19

14

12

11

5

8

16

23

8

13

10

19

15

SEATED

85

85

89

88

76

74

77

81

82

85

79

91

87

75

79

66

UP-ALERT

7

5

5

5

10

16

2

14

7

9

14

4

3

5

10

6

LYING

6

5

2

4

10

5

1

4

7

1

2

2

3

15

6

21

OTHERS

2

5

4

3

4

5

1

1

4

5

5

3

7

5

5

7

MOVING

1

4

2

3

1

1

1

1

1

1

1

1

1

1

1

1

IN BURROW

55

27

35

35

29

19

20

11

16

34

34

16

34

30

36

29

ACTIVITY UNKNOWN

7

2

3

3

37

53

56

75

66

25

22

64

23

22

21

23
ritorno/back
ritorno/back
ritorno/back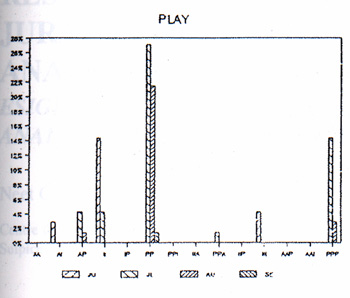 ritorno/back
ritorno/back
---
REFERENCES
LENTI D, 1983. Lo stazionamento nella Marmotta alpina e il sua significato nella sorveglianza del territorio, p. 50. In: Estratti del 111 Convegno dell'Associazione A. Ghigi per la Studio dei Vertebrati. Bellagio 57 pp.
LENTI BOERO D, 1988. Distribuzione degli insediamenti e stima della densità di marmotta alpina (Marmota marmota L.): metodi di indagine per zone campione, pp. 253-264. Atti del 1 Convegno dei Biologi della Selvaggina. Supplemento alle Ricerche di Biologia della Selvaggina. Vol. 14.
Tornare index / back contents